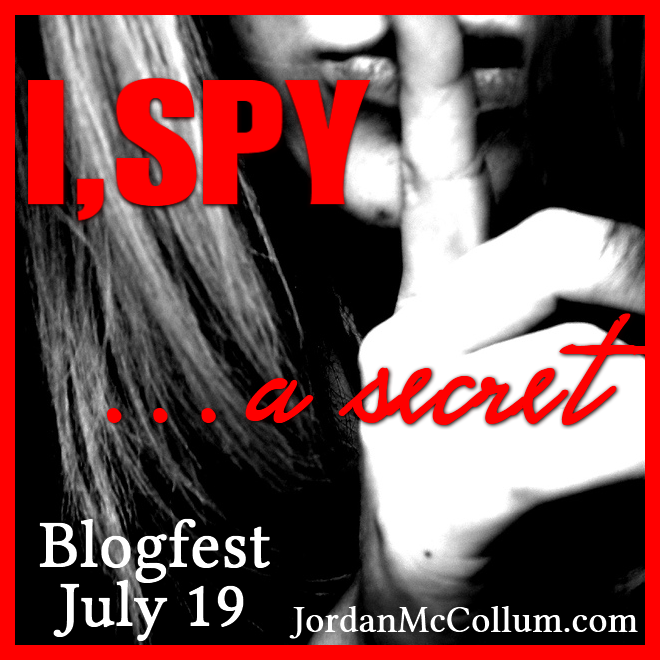 "The I SPY ... A SECRET" Blogfest features a scene in a book or a memoir of a secret. Because there is a 'secret' even in the title of my book--
"The Secret Sisters Club: A Ginnie West Adventure"
I had to participate.
Below you will find a 2-page chapter from my book about a secret that Ginnie has been keeping from her best friend, her twin brother, and her dad. Enjoy! :)
"W
ow, Gin! That's so cool you found your mom's journals." Tillie ran her finger down a blue stripe. "What did your dad say?"
"I didn't tell him. He's weird about her. I'm going to read them all and then tell him I found them. Like Uncle Jake says, sometimes it's easier to ask for forgiveness than for permission."
Tillie's eyes popped open. "I don't know Ginnie. That seems pretty sneaky. He showed you her scrapbook. He'll probably let you read her journals."
"When I asked him about his first date with Mama, he freaked." Ginnie snatched the book from Tillie. "He isn't going to tell me everything, but Mama will."
Ginnie grinned mischievously. "Like when Mama threatened to shoot him—with a real gun."
"'Cause he snuck in their bedroom to surprise her. She thought he was a burglar and ended up surprising him instead."
Tillie giggled. "No way!"
"Yes way. Check it out." Ginnie flipped to the journal entry and read it to Tillie.
"Wow!" Tillie fell back on the bed laughing a minute before sitting up. "I wonder if he'd do that with my mom? Good thing she doesn't have a gun."
"I doubt it." Ginnie closed the journal, feeling protective of her dad all of a sudden.
"Not yet. And you can't tell him."
"Don't you think he should know? She's his mom too."
Panic gripped Ginnie. "Tillie, I only trusted you because I was mean to you. You're my best friend and you're probably gonna be my sister. But I need to have this time with my mom all to myself for a while." She set the book on her bed and held Tillie's hands tight.
She shook her head. "No you don't. You have a mom." Ginnie swallowed a growing lump in her throat. "I'm never going to be able to just sit down and talk to her. So this is sorta my way to just chat with her… like you do with your mom. If you tell my dad or Toran, that will be ruined. Promise me you won't tell. If you do, we might not be able to be friends anymore."
"I mean it, Tillie!" Ginnie jumped to her feet. "You can't tell."
Tillie stood and wrapped her arms firmly around Ginnie.
Ginnie stiffened, regretting she'd shared her secret treasure.
"Cross my heart," Tillie whispered in her ear. "I won't tell. I promise."
Wanting to believe her friend, Ginnie nodded.
You better not.
If you want to read more secrets from other authors' books and win a gift card--follow this link: HERE
There are free prizes--just for reading. Check out the link on Jordan's blog. Please join the fun. :)
The Secret Sisters Club: A Ginnie West Adventure is also just .99 through this link: